Full of Spas, Entertainment, Gifts, Dining and Nightlife for the Whole Family
Family photos on the beach are a tradition for many families. It's a great idea too! When are you the most relaxed and happy? On the beach vacationing. When is your whole family together? What do all of you talk about for years after you get back home? The time you spend together at Topsail Island. You want images that have been created for you of your family to hang in your home to re-live those special moments with your loved ones. Portraits speak to us of what we feel is important and serve as visual guides to keep us on track in life. Some days when you get home from work, you need those large framed pictures on your wall to help you say, "This is why I do what I do, and it's so worth it". Photography has a beautiful way of reminding us of those fun times you spent together splashing through the waves at Surf City beach.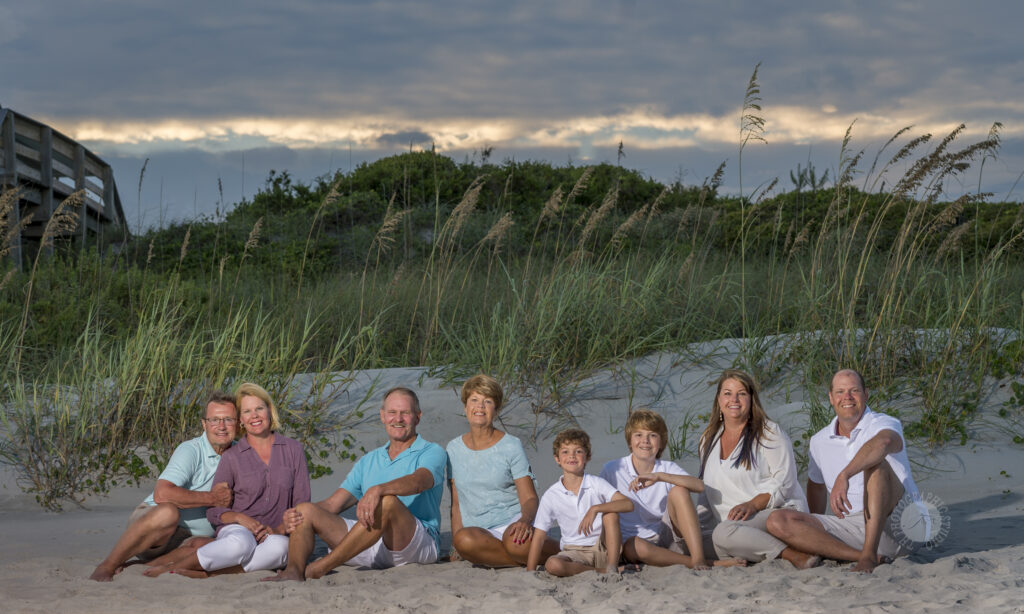 Knowing how important family portraits are to you, we understand choosing a reputable photographer is important. My Father, Brother and I are Certified Masters Photographers with Professional Photographers of America. Our lives lived behind a camera gives us a unique insight in capturing your most precious moments.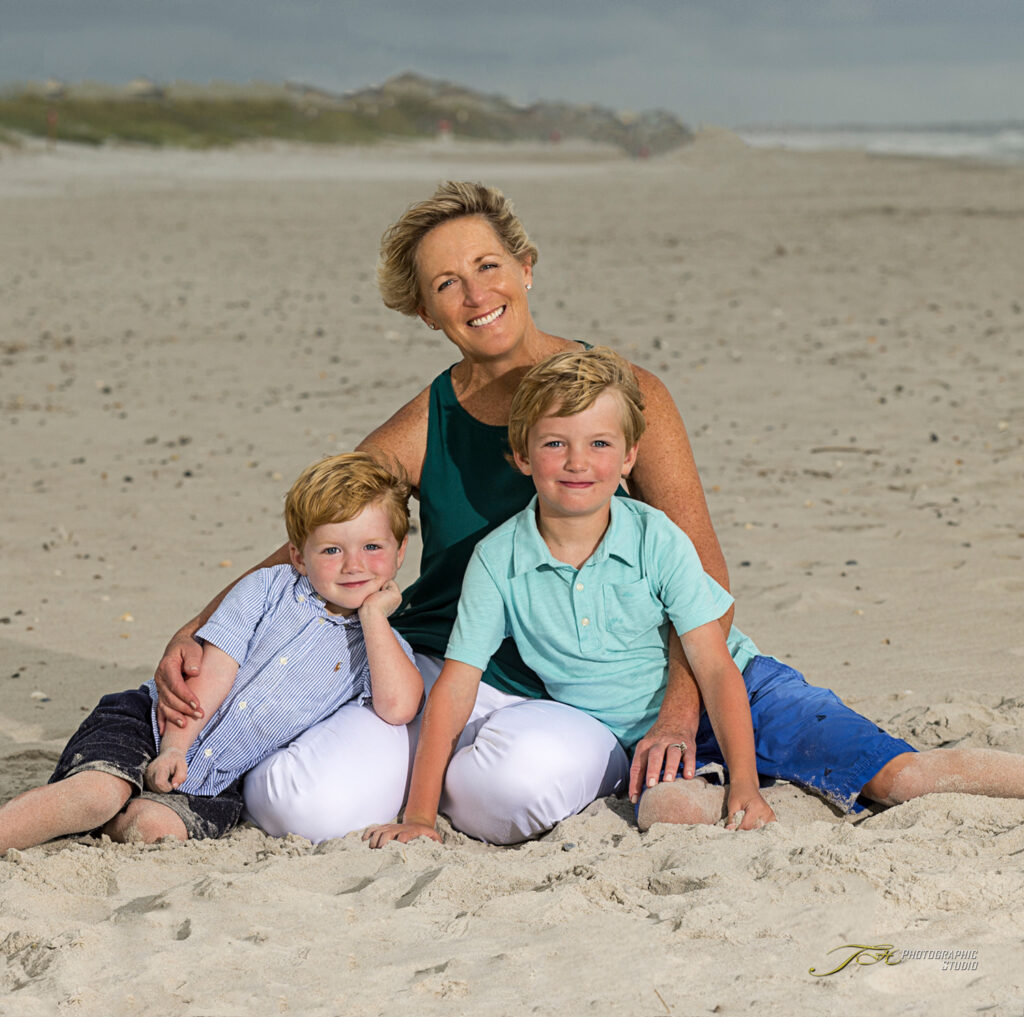 Topsail Island has North Topsail Beach, Surf City Beach and Topsail Beach. The sunrises and sunset are incredible on the Island which makes for outstanding images. The golden hours for portraits are these two times of day. At sunrise the wind is always calmer than at sunset if you are concerned about your hair being wind-blown. Or little Gracie is always happiest in the mornings, plan on a sunrise photo session. Sunsets offer nice breezes with warm water to splash your feet in for your Beach Portraits. Maybe you want your images with the dunes behind you, most of the island has them right off your beach house access. Or choose the south end of the Island which has the views of dunes with the ocean in the background. Maybe you want your portrait under the pier, the Island has three of them. Portrait opportunities abound on Topsail Island.
We look forward to working with you to create the best experience and most beautiful portraits for your family to remember your time at the beach. To help you find those last-minute outfits or other places to explore while you're here at Topsail, we have put together an extensive list for your convenience.
Pampering Your Mind, Body and Spirit Shows In Your Pictures
Find Your Ahhhh … at Ama Spa
"Fantastic atmosphere, personalized services. Maria is an outstanding massage therapist who takes the time to discuss expectations and determine best plan for you. Rebecca did an outstanding spa pedicure and takes the time to makes guests feel like family. Ama Spa is a true spa experience; you get what you pay for. If you are looking for an elite guest experience, check out Ama Spa." ~Rebecca W.


13460 Hwy 50, Ste 104
Gateway Plaza Shopping Center
Surf City, NC 28445
(910) 803-2500
"I have been coming to Allycin for about two months now; I was in desperate need of help treating my adult acne that just never seemed to get any better. I tried all kinds of products, home "remedies" but only made my skin worse. Until I did some research and decided that I needed a professional. So glad I found someone who truly cares about their clients, and best of all gets you results! As long as you commit and follow her recommendations, your skin will improve! I'm super excited to finally get rid of ALL my acne and we are more than half way there! Thank you Allicyn!!" ~Evelyn E.
13567 NC Hwy 50
Suite B
Surf City, NC 28445
(910) 803-0601
"Awesome for all the kids. The look on the kids face made you realize it was worth all the hard work." ~Jane K.
"A great place to take kids. A lot of classes, plus seasonal sports teams. The gym is a great place to work out." ~Lance S.
"Great yoga classes, friendly staff and wonderful dog park!" ~Kimberly Hansford B.
201 Community Center Dr,
Surf City, NC 28445
(910) 328-4887
Inspired By Your Portrait Session? Interestingly Creative, Entertainment for Kids of All Ages
"Sea turtles will look you in the eye. If you get a little twinge when they do, it's because they're looking into your soul, and you're looking into theirs." ~Jean Beasley, Founder

302 Tortuga Dr.
Surf City, NC 28445
(910) 329-0222
"The Missiles and More Museum has exhibits on Operation Bumblebee that, in the late 1940s, did ramjet technology research on Topsail Island. Just outside the museum is a TALOS anti-aircraft missile. This covers the "Missiles" part of the museum. According to the museum's website, there are exhibits on pirates, Osprey aircraft, and Women Air (Force) Service Pilots (WASPs)." ~John Takao C.

720 Channel Blvd.
Topsail Beach, NC 28445
(910) 328-8663
"We booked our tour following the recommendation by friends 11 and 14 yr old kids who loved their tour. We were not disappointed. We did the 3 hr. private tour and really enjoyed the information Captain Summer shared about Topsail and shelling on the island. The views are beautiful and the boat is comfortable. We really recommend this trip if you're looking for an engaging and fun day on the water. Don't forget to tip your Captain because they earn it! Thanks for a great memory Captain Summer and Tiki Time!" ~
Mary E. Belcher-S.
412 Roland Avenue
Surf City, NC 28445
(910) 262-7355
Or
(910)650-3223
"Terrific! We did the Sunset Trip with Captain Tate Tucker- it was wonderful!
Lots of great views, and we loved hearing something about the history and geography from knowledgeable Capt. Tucker, who seemed to know everyone out on their docks enjoying the lovely summer sunset.
A local treasure, and not just a water shuttle- this was a great little evening cruise!
You'll experience a unique waterman's view of Topsail, with a native islander.
Really a treat for all ages!" ~Katherine Arnott-m.

634 Davis Ave.
Topsail Beach, NC 28445
(910) 616-7106
"My Daughter has been attending EMA since 2013. The staff is so incredible and fun. The way they make learning exciting is truly a gift. I would recommend any of their camps or after school programs for any child who is eager to learn more about the earth and sea life. Hands on learning and education through movement and motion are a thing we all need to embrace and incorporate into our children's lives :)Thanks EMA for being a great program that has influenced my child's learning and future goals, we have a veterinarian and part time marine biologist in the making… so says Selma 🙂 !!" ~Ana S.

116 So. Topsail Dr.
Surf City, NC 28445
(910) 328-1951
"The patio made my trip to Topsail so much better. For one it had ice cream which I was already a fan of (trash cans the best) and it's a fun place to play a round of putt putt. To me for some reason no matter where my family goes on vacation there's always putt putt and we always play, it's like a tradition , but we don't consider it one. After playing a round of mini golf and you've had your double scoop of trash can on a waffle cone you can chill out play some game and win some prizes until the real fun begins. Here comes the DJ! Not only do you get to jam out to some awesome tunes with your friends and family you get to play games and answer riddles and trivia questions to win prizes. My brother my cousin and I would walk down there almost every day to get ice cream and play some golf. When it was our last day my cousin and I participated in a game and we won a free round of putt putt, but since it was our last day we wouldn't have been able too. Since we couldn't play another round of golf the guy gave us and the other family members we were with airheads. All in all, my first trip to topsail wouldn't have been the same if it wasn't for the Patio playground." ~Caelyn B.

805 S. Anderson Blvd.
Topsail Beach, NC 28445
(910) 616-2814
"Our family had a great time playing on Memorial Day. Gift shop had some fun little items we picked up for ourselves and kids too. Owner/Operator was super friendly and we enjoyed chatting after our game, he even gave us free drinks due to my husband being prior service! Highly recommend stopping by for a game if in the Surf City area!" ~Ashley Gunn J.
107 Charlie Medlin Dr.
Surf City, NC 28445
(910) 329-4653
"The crew, who works there, was fabulous. I needed to learn how to fish the pier and they were helpful! Plus I loved taking my fish in to the kitchen for them to fry! Awesome people and place! A must stop in Surf City or if you're in the Topsail area!" ~Bob C.


112 S. Shore Dr.
Surf City, NC 28445
(910) 328-3521
Need to check out the Surf conditions? Want to see what it looks like at the beach. The Surf City WebCam is the way to go.
Planning on taking the kids fishing? See how many people are on the Pier and what they are catching with the WebCam.
Just click the link to watch.
"Surfing has always been on my bucket list. I decided to try it with my family on my 40th birthday. We made the journey from WI and Surf City Surf School made it everything I imagined it to be. The staff is amazing!!! If you visit Topsail Island you definitely should check them out." ~Katie T.
107 N Shore Dr,
Surf City, NC 28445
(910) 616-2280
Imagine a Full Day of Uniquely Fun Gift Ideas for the Artist at Heart
"I love The Bumblebee Market! We found it last summer and it's now on my list of must visits any time I'm on Topsail. They have the cutest gifts, a great selection of Scout bags (which I adore) clothing, jewelry, and even candy. The staff is always friendly and helpful and makes every visit something special. Be sure to check it out and you're guaranteed to find that perfect gift for the special person, or better yet, for yourself! Thanks Bumblebee!" ~Glenda Chestnut C.


513 Roland Ave.
Surf City, NC 28445
(910) 328-2105
"I am in love with this shop! The owner is so helpful and generous with samples. Anything I have tried I have re-bought several times. She makes the best natural deodorant I have EVER used. I've worn natural deo for 6 years and never tried one that helped with sweat and stink before this one. This one is amazing. Her bath bombs are heavenly, richly scented and moisturizing. I have sensitive skin and the bath bombs never irritate but leave my skin feeling softer. My other obsession is her dog soap. It sounded weird at first to use a bar but it's so easy and I never over suds my dog!" ~Sarah C.

208 N. New River Drive
Surf City, NC 28445
(910) 508-6599
"Loved the ariel photos, local crafts, candles, tees and sweats.
Affordable pricing, southern hospitality with great customer service." ~Steve C.


14061 Hwy 50
Surf City, NC 28445
(910) 599-5115
"Who doesn't love The Gift Basket? It's one of my favorite places to shop for gifts and other things on the island! I enjoy buying most predominantly Christmas and birthday gifts for my friends and family here! They do a great job of wrapping them! Their Surf City sister store, the Topsail Island Trading Company is good too!" ~Toby B.


702 S. Anderson Blvd.
Topsail Beach, NC 28445
(910) 328-7111
"Hands down the best store on Topsail Island. If you are looking for unique pieces made by local artist…come here. This is one of the very few stores (if not the only store) with all items being local. You can also meet some of the artist and hear the stories behind the pieces. Oh…and they have great t-shirts. =) This is always our first stop when we go to Topsail." ~Alyssa G.
114 N Topsail Dr
Surf City, North Carolina 28445
(910) 554-2764
"I fell in love with Mias while on vacation last week. The shop has the cutest stuff in it and the staff was a 6 out of 5! I always want to get something special to bring home with me from vacation…not some silly trinket but a fun cool special thing that reminds me of my trip..this place has so many that my hubby had to drag me outta there!! LOL !! Came back with a personalized Corkcicle (yup I finally got the name rt…wink) also a Houston Llew Spiritile that looks wonderful in its new home!! Thanks ladies for everything!! I'll be watching online to see what goodies you can ship me later in the year!!" ~Linda-Lulu Hriniak H.

14061 NC Hwy 50/210
Surf City, NC 28445
(910) 803-0316
"THE BEST STORE ON THE ISLAND!!! Favorite store to shop for clothes for all seasons!! Thank you for continuing to hit the mark on style and service!!!! You will and always be my go to choice for a new outfit!" ~Kelly N.


206 N. Topsail Dr.
Suite D
Surf City, NC 28445
(910) 541-2091
"Charming store for one of kind treasures. Beautiful jewelry, and more. Wanted one of everything. Will definitely be stopping in with every visit to the island." ~Camille Howard P.


208 N. New River Dr., Ste. J
Surf City, NC 28445
(910) 541-0138
"Such a unique shop!!! It's open all year round and meets the needs of the locals with clothing and accessories! It also has awesome gifts and souvenirs to remind you of your stay of Surf City or Topsail Island! Above and beyond customer service, it's rare to get service like this anymore. Always my favorite place to go when I go to Surf City!" ~Tiffany K.


314 N. New River Dr.
Surf City, NC 28445
(910) 328-4141
"Tommy James is a wonderful jeweler and artist. The store, Mystic Treasures Jewelry, has the most beautiful and unique collection of items anywhere on Topsail Island. Each piece hand crafted by either Tommy himself, or by one of the talented artists he allows to showcase their pieces in his store. My husband surprised me with a patented Armada Hook bracelet and the most beautiful ocean water blue ring designed by John Kennedy Designs. I've already got my name on a few pieces for the holidays! I highly recommend. I've found my new local jeweler for sure." ~Sandi M.


13500 Hwy 50, Ste 109
Gateway Plaza Shopping Center
Surf City, NC 28445
(910) 803-2200
"My favorite shop in Surf City. From T shirts, jewelry, children's books and toys, decals, decor items to the fabulous fudge..it never disappoints!
Oh, and the employees are always smiling and gracious!" ~Cheryl Sparks S.


201 N. New River Dr.
Surf City, NC 28445
(910) 328-1905
Photoshoots Can Leave You Hungry-Taste a Wave of Great Coastal Dining
"Best huevos rancheros ever! My taste buds were doing a happy dance in my mouth. Really good coffee, too- had 4 cups. Went back for dinner- the scallops were absolutely amazing, as was the strawberry spinach salad. The bread pudding was one of the best desserts I have ever had. Wait staff were friendly and attentive without hovering. The morning bartender/manager was hilarious and gave us good tips about the island. Please go! You won't be sorry. :)" ~Meagan Lehmann T.


701 S. Anderson Blvd.
Topsail Beach, NC 28445
(910) 328-6501
"We have stayed at the Breezeway Motel for the past two weekends. We extended our stay both times because we enjoyed it SO much! The fishing pier is awesome and convenient! We ate at the Breezeway restaurant almost every night (the she crab soup is delicious)! But my favorite thing… DEBBIE and ELLIS are GREAT! We left feeling like family and can't wait to see them again soon (next weekend anyone)? Thanks for making our vacation(s) amazing! Omer and Era Sue (Broadway, NC)." ~Era Sue G.


636 Channel Blvd.
Topsail Beach, NC 28445
(910) 328-7751
Mexican bar and grill
"Awesome food and wonderful service (this go around). Kudos to Mary, she's a great waitress. Always friendly, greets us with a smile, and remembers what drinks we like to order. Jorge is an excellent manager and makes sure his customers are 100% satisfied with the service and food, and if for some reason you're not, he trys everything he can to make you a happy and returning customer. He walks around the restaurant and trys to talk to each and every table to see how things are going. We are locals and this is our go to Mexican restaurant!" ~Whitney B.
13460 Hwy 50/210
Surf City, NC 28445
(910) 329-4500
"Awesome place! The staff was very professional and the place was very clean with great views. Our waiter (I think his name was Vinny) was superb! He provided great service! The food was phenomenal and the place also had a great drink selection. I personally liked the beers but my wife liked the cocktails. Def recommend!" ~Adam G.


108 N. Shore Dr.
Surf City, NC 28445
(910) 328-5577
"Just had the ribeye. One of the best steaks I've had in years, honestly. I've eaten A LOT of steaks in the past 3 years and this steak was incredible and at the top of my list. Servers were nice and were very attentive. Also, we ordered the loaded cheese fries (amazing) and the buffalo calamari (the hot sauce was great but kind of mixed weird, but I'd eat it again. Drinks were priced fairly (and they had angry orchard!) Will DEFINITELY be back next time. A+" ~Michael L.


614 N. New River Dr.
Surf City, NC 28445
(910) 541-0877
Hot Diggity Dogz
"In this dog eat dog world there's only one place to go"
"Our beach rental is right down the road so several of us walked over for lunch one afternoon. Everyone had hotdogs except me. They have a pretty good list of dogs to choose from. They have hotdogs, burgers, and bbq sandwiches as well as a few other items. Take cash when you go as it's the only acceptable method of payment here. The outdoor seating is very un-fussy picnic tables where you can sit and people watch. They also boast a sanitation score of 100 which made me happy!
I ordered a cheeseburger with lettuce and tomato and enjoyed every last bite. The slab of tomato was one of the best I've ever tasted! The young man who took our order was an absolute delight! He even walked out after we started on our lunch to see how everything tasted and to chat until his next customer showed up. We will most definitely be back before vacation is over. If you get the chance, GO!" ~Lynn B.
103 South Shore Dr.
Surf City, NC 28445
(252) 943-5383
"Best pizza on the island! Wait staff is average and the restaurant nickel and dimes you on everything (take out box and sides of ranch cost extra and only 1 drink refill, etc)" ~Kyle D.

602-A Roland Ave.
Surf City, NC 28445
(910) 328-2158
"The view is just the beginning"
"This was our 4th time eating at Ocean's Edge. It's an amazing view from the 7th floor. The food is always very good. We have tried the prime rib, fresh grouper, salmon, chicken Alfredo and BBQ'd ribs. All the entries have been excellent. Bring your appetite, as the portions are large. The hush puppies to start your meal are some of the best we have eaten. Lisa, the server is very friendly and service oriented. She does a great job at making you feel right at home and she's very efficient. There is a full service bar as well, with great drink specials and they offer wine by the glass or bottle." ~Joseph Fusco


2000 New River Inlet Road, #2701
No. Topsail Beach, NC 28460
(910) 328-0582
"Y'all! If you're in North Topsail this is THE place to eat! As soon as my husband and I pulled into the parking lot we could smell the food and my goodness it smelled amazing! The inside is so nice and laid back. It's a very relaxing feel to the place. Very, very clean! We didn't have to wait long at all for anything. We were greeted and seated as soon as our feet hit the door. Before we even got settled, our waitress (Sarah) was there to take our drink order. She was absolutely wonderful! Very sweet and kind. She was even sweet enough to help us locate entertainment on the island. Now, the food. Oh my goodness! The food was amazing! We ordered the boneless chicken bites as an appetizer. Let me tell you those things were spot on! For the entree my husband got the dirty bird sandwich with fries, and I did a BYO burger with bacon, cheese, tomato and mayo. We didn't say a word the whole meal because we were both busy shoving food into our faces! We've been here for a few days and been out to eat a few times, but let me tell you, this place by far has been the best food we've had on our stay! All in all, this place is amazing! The food is out of this world, the establishment is clean and welcoming and our waitress was wonderful. We've definitely found our new "spot" when we vacation at Top Sail!" ~Cammie C.


510 Pete's Way
Sneads Ferry, NC 28460
(910) 327-2300
"I have been going to this place my whole life. It's nice to hear when I go all day and work at my fresh seafood market and I walk in here and hear a customer say if the Shrimp Lady eats here then it must be good! Johnny serves only the finest seafood there is and if I'm not cooking seafood at my house this is my go to for fresh seafood. I would give them more than 5 stars if I could. Thanks for your awesome service Johnny. I'll always be coming back here." ~Michael M.


615 Canady Rd.
Sneads Ferry, NC 28460
(910) 327-2011
"Great little place. The service was outstanding. And they let you have dogs in the outside breezeway (not open all the time so check before you bring one). Good simple kids menu too. The seafood was excellent although the servings were modest we really enjoyed it. Sarah, our server, was gracious and fun and fast. Can't ask for more." ~Juliane E.
13460 NC Hwy 50, Suite 101
Surf City, NC 28443
(910) 803-2037
"Is there a 10+???
This place is the bomb!!
Food is creative & fantastic!!
Our waitress Audrey was simply wonderful & had great suggestions.
We drove all the way from Ohio for some great grub.
Tried the buffalo chic dip – Its addicting
Boxer dog – sounds strange but oh my goodness it was delightful
Surf dog – Yum
Chihuahua Dog has taco meat – WooHoo
Lets just say we had to pull away from the dog bar or we just may have tried them all.
We definitely will be back. Hmm maybe tomorrow." ~Patricia David B.


204-A N. New River Dr.
Surf City, NC 28445
(910) 541-2358
"Absolutely amazing! Customer service gets 5 stars by itself; the food gets 5 more of its own!
I have wanted to try Topsail Steamer since they opened and finally got a chance this year…we now have our newest Topsail tradition!
Instructions were perfect, seasoning amazing, huge portions and the food was the best meal we've ever had on vacation. Worth Every. Single. Penny.
We'll be back!" ~Whitney M.


303 S. Topsail Drive
​Surf City, NC 28445
(910) 328-2645
All Dressed uP After a Photography Session-Enjoy Some of the Best Nightlife on the Island
"Looking for that "neighborhood" bar while on vacation,, then stop by the Brass Pelican. From the outside she's not much to look at, nor from the inside, don't let that fool you. The staff is friendly, and they have great drink specials. The place is family owned and run, and they treat you like you are one of their own. Great local band inhabit the place on weekends. When you are down on the he shore, definitely make The Brass your drinking headquarters. Great place to watch sports too." ~Sean R. N.

2112 N New River Dr,
Surf City, NC 28445
(910) 328-4373
"What a fabulous establishment! One of the only places in Surf city/Topsail island you can get fine microbrews from across the state and beyond. Definitely a great tourist spot if you're in to craft beer. Absolutely love that this particular establishment is dog friendly! Above and beyond customer service from all the employees and dedicated service from an owner who truly cares about you having a good time. A "must stop" either if you're a local or a resident, you're bound to have a good time either way!" ~Ryan V.

2660 Hwy 210E #105
Surf City, NC 28445
(910) 803-2325
"Great new place! Definitely what we needed around here! LOTS of different beers to choose from. Friendly and very professional staff. Great prices on all drafts. If you haven't tried this place yet… do it!" ~England H.
1283 NC Hwy 210, Unit G
Sneads Ferry, NC 28460
(910) 741-0692
"We love this place! Wednesday night bingo is the best! They have a good selection of local craft beer, and tons of wine that is very reasonably priced! Bring your own food, order a pizza from one of the local places, or buy some snacks at the bar like Topsail popcorn, yum! The owners are very friendly and I love supporting their cute little business. " ~Denise Mikkelson L.
121 No. Shore Drive
Surf City, NC 28445
(910) 541-0424