Spas. Fishing. Gifts. Dining.
Wrightsville Beach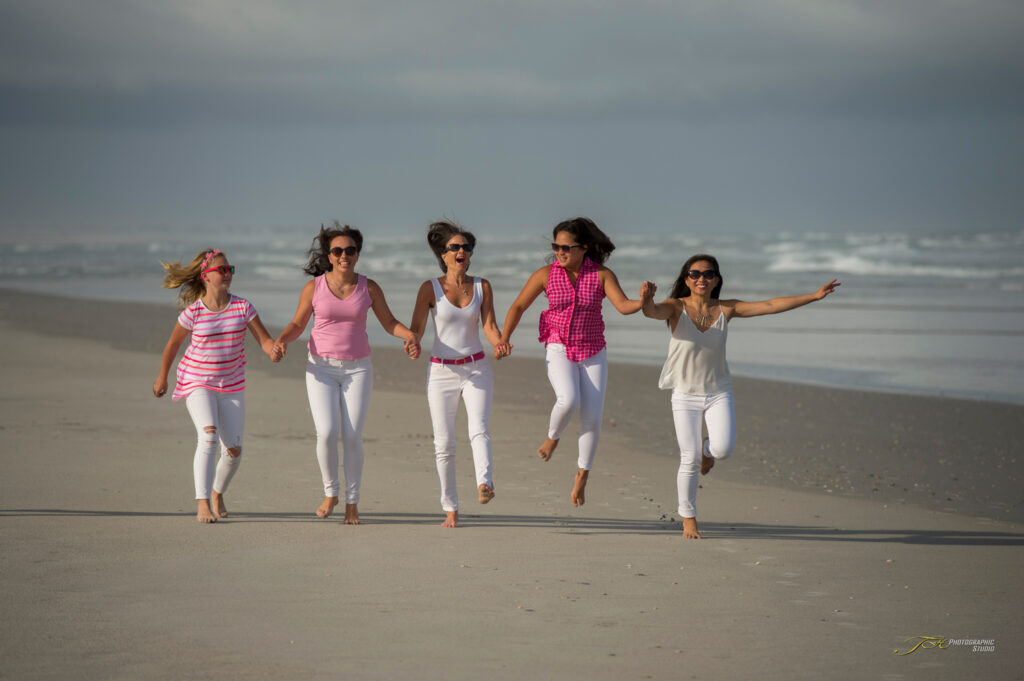 North Carolina has beautiful clean beaches, so it's not surprising that vacationers want to come to the beaches and enjoy the many activities in this state.
Since this is usually a special time for many families and friends when they get together, several to-do items tend to get put on the list while they are having a relaxing time in the sun. These items include stopping at the various visitor centers where they can pick up information on; things to do, various tours, seafood and restaurants, local photographers for family portraits, parking passes and public beach access, just to name a few things found at the visitor center.
Wrightsville Beach is a good example of a family-oriented beach that is also a short distance from downtown Wilmington.
It has easy access to the boat ramps or the Johnnie Mercers fishing pier for those who want to stay on shore to fish. Beach parking is available but you may need to need to feed a meter to enjoy a day on the sand and in the sun. If you're staying at one of the resorts, you need to make sure you are issued a parking pass otherwise your vehicle may get towed.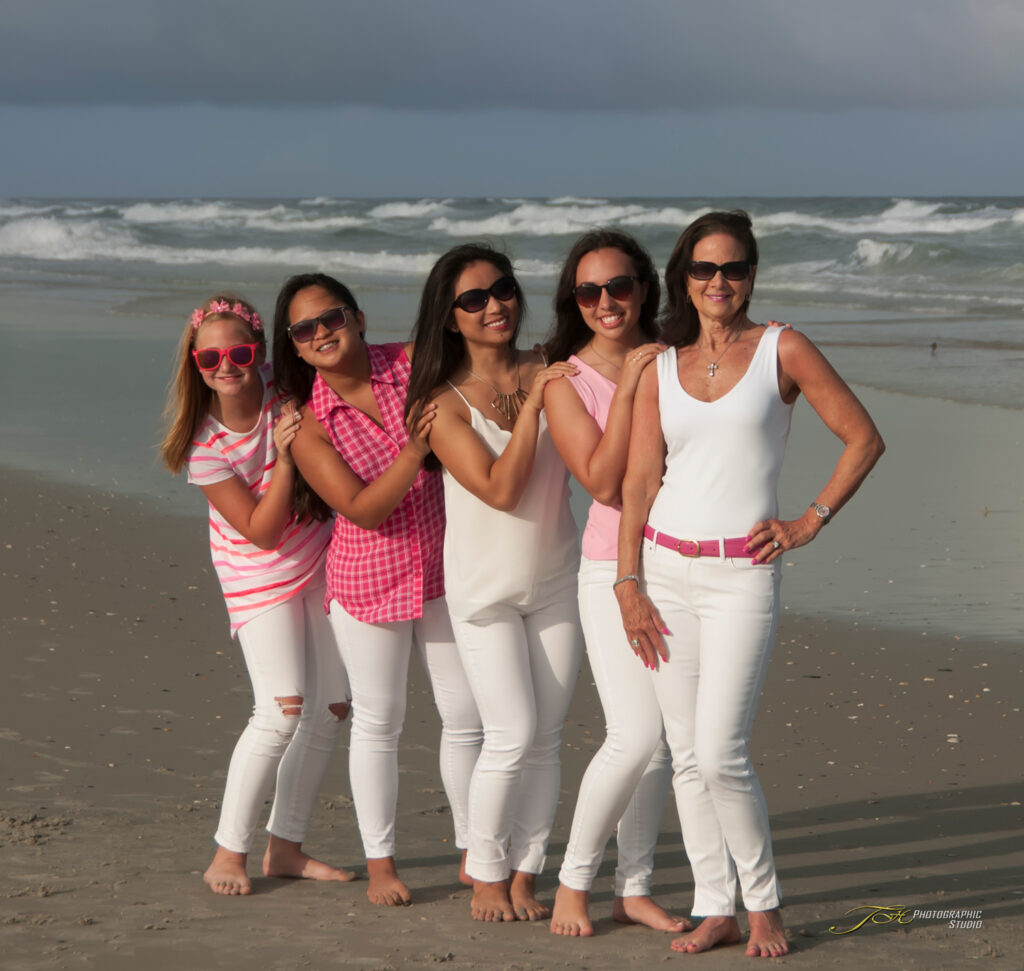 One of the questions TH Photographic Studio gets asked when booking their family portrait time with us is; what is the best day to do their beach portraits?
One of the questions TH Photographic Studio gets asked when booking their family portrait time with us is; what is the best day to do their beach portraits? If families rent from Saturday to Saturday, then we suggest they plan a Monday or Tuesday time for the photography session. This gives everyone enough time to relax and get a little bit of a tan. Remember to use plenty of sunscreen so you tan instead of burning. Also, you may need an alternative day because of rain, so planning early gives some leeway.
We then schedule Wednesday or Thursday to return and review the images so you make the selections before returning home at weeks end.
Questions that tend to be asked; how do you handle the blended family's portraits? We give suggestions for grouping families and maybe wearing different color tones to represent the various family groups. Will it be just you photographing the family and what equipment do you use? Our studio uses two Master Photographer's and sometimes an assistant with multiple pro-camera gear and off camera lighting system. Our belief is that with larger family groups, it takes more than one person to ensure the attention in detail for the best photographs. Clients know they are making an investment in this special occasion, so our job is to ensure it's done correctly.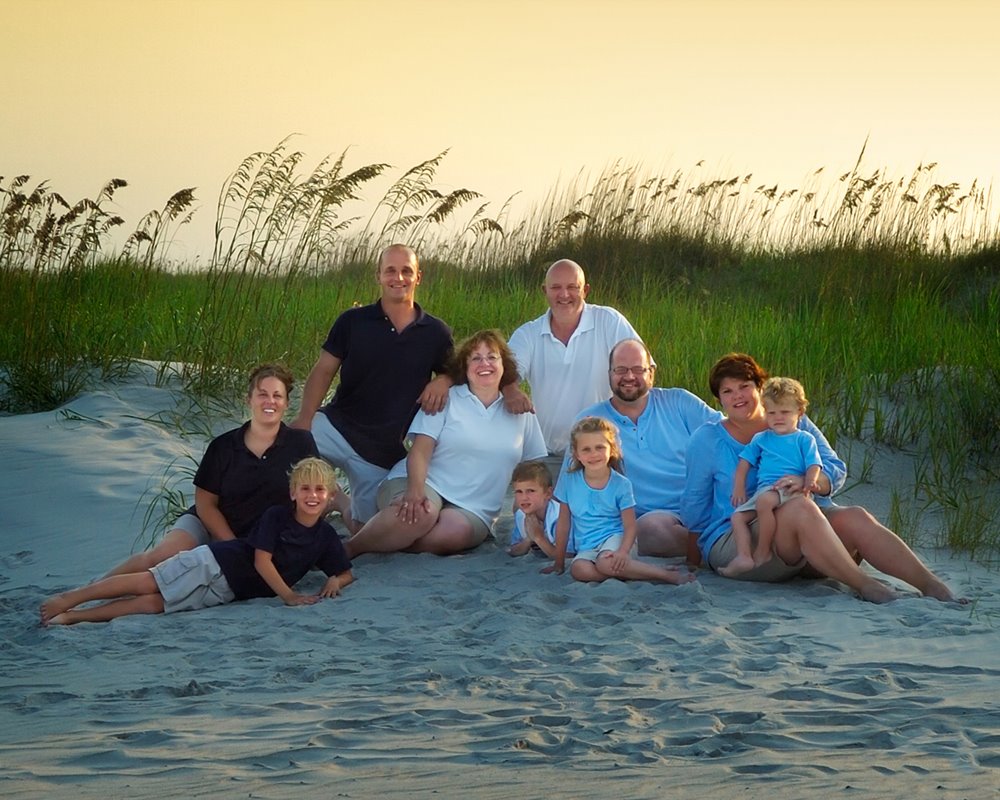 Clients know they are making an investment in this special occasion, so our job is to ensure it's done correctly.
With Wrightsville Beach only a few miles from downtown Wilmington, families may want to do the Riverwalk along the Cape Fear River of this historic area. If you have children then include places such as; Wilmington Railroad Museum, the Children's Museum of Wilmington, and USS North Carolina Battleship decommissioned in 1947 and arrived in Wilmington in 1961. It became a National Historic Landmark in 1986. These three places are always a big hit for the children and tourist.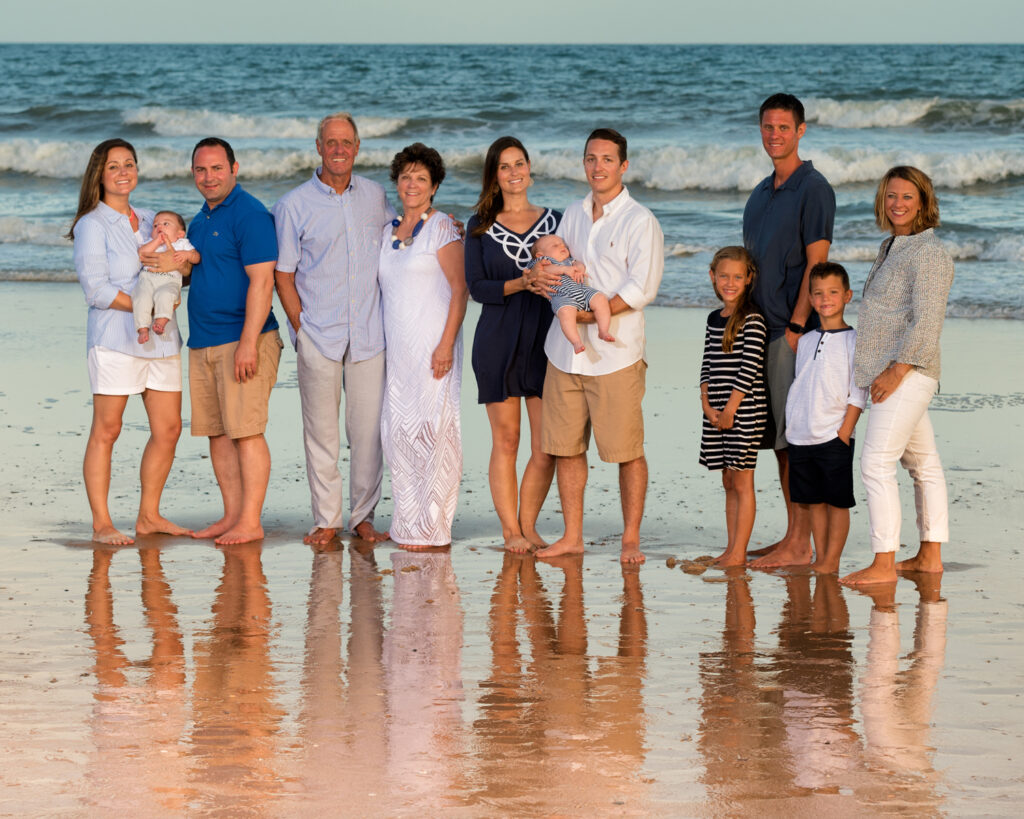 A day l0ving yourself for that perfect photo session!
Unlocking the energy of your mind, body, and spirit
"I just spent 5 hours at Ki Spa and I did not want to leave. My boyfriend surprised me and it was beyond my Ki Spa Expectations. I have been here a few times. I can honestly say the staff at Ki Spa makes the experience unforgettable. The atmosphere and thought that has gone into constructing and designing the spa is impeccable. This is the only spa I will ever go to. It is the best. Thank you for a relaxing and beautiful day Ki Spa!" ~Kerstin Marie I. 1125 Military Cutoff Rd Suite Q Wilmington, NC 28405 (910) 509-0410
"I am a former cosmetologist that has done other people's makeup for weddings and proms so I was a little hesitant to have someone else do my makeup and hair for my son's wedding. I decided at the last minute to contact Harbour Club Day Spa and Salon and I am very glad that I did. Kristen did my makeup and Drew put my hair up for me. It was nice that I didn't have to spend 2 hours trying to do that on the day of the wedding and I was very pleased. Thank you Kristen and Drew." ~Sue Sink D. 1904 Eastwood Rd, Ste 101
Wilmington, North Carolina 28403 (910) 256-5020  
#1- Cleanliness is an absolute must in any gym as everyone knows the gym can be a hotbed for germs and illness. The Crest is pristine; fresh towels and sanitizer are provided in close proximity to every station. Bathroom shower areas are always clean.

#2- Equipment is state of the art and you can count on all treadmills, etc. to be in working order
.
#3- Safety is a priority: you can be confident that everyone in the gym has been checked in and checked out. The equipment is maintained ensuring safety of all members.

#4- The owners, Nick and Wanda, are in the gym EVERY day to warmly welcome you and address any and all questions or concerns. Wanda makes the most delicious and healthy smoothies!!! 

Nick even replaced my car's broken rear view mirror while Wanda whipped up one of her famous smoothies while I waited; Seriously,
That says it all! Nick and Wanda and the Crest are best, hands down." ~Gay F. 1962 Eastwood Rd Wilmington, NC 28403 (910) 509-3044
Let's all go Fishing
Captain Jot Owens
"Captain Jot is the all-time best guide hands down. The knowledge and effort he has is absolutely impressive! If anyone is reading this in search of the right guide to hire search no further. We had an amazing time and thank Captain Jot for the great experience we had!" ~Dwight B. 330 Causeway Dr
Wrightsville Beach, NC 28480
(910) 233-4139
Captain Jon Huff
"Great day fishing for my family of 4 (kids 9 and 5). Caught lots of king mackerel and then went for sharks! Saw a hammerhead and he took a few bites but we couldn't hook him. Captain Mike and Mate Ben were super-nice. A plus (requirement for us) the boat has a head (restroom). The afternoon nearshore charter was the perfect amount of time for us. Will definitely go back next visit!" ~KatynspinnyWrightsville Beach, NC 28480
(910) 617-2619
Fishing Pier
"Have helped Fishing with Special Friends Tournament for 8 years going forward. Nicest bunch of folks in the Pier house and Restaurant ALONG with the LOCAL fishermen and women on the pier itself. Go there feeling down and leave with a SMILE." ~Max C W. 23 E Salisbury St
Wrightsville Beach, NC 28480
(910) 256-2743
Fun Gift Ideas for feeding One's Heart
The shopping village by the beach
"Very nice location. Absolutely lovely individual Shoppe's.
Each shop has its own theme. Definitely high end merchandise from discriminating taste. While there be sure to go through the stores to their back entrances. Absolutely lovely area with serene water sounds and beautiful landscaping. Relax and continue browsing through all of the different shops here!!" ~Betty F. 1900 Eastwood Rd 
Wilmington, North Carolina 28403
(910) 256-0900
Unique Fish Gifts
·
"This beautiful gift shop would be considered a treasure to any town. But having a location at the "entrance" to Wrightsville Beach makes it even more special. The items are unique, and the staff is friendly and helpful. Will continue to shop here for years to come!" ~Miriam Hood B. 1425 Airlie Rd
Wilmington, NC 28403
(910) 256-5505
Marine-Fishing-Beach Supplies
"Wow! I've been going to this store since I was a little girl. Everything from souvenirs to maps to high end clothing. They also have amazing post cards!  It would be a shame to visit Wrightsville Beach and not make a stop at this wonderful store." ~Tamara M. 120 Causeway Dr,
Wrightsville Beach, NC 28480
(910) 256-2201

"Amazing group of guys. All of the staff is not only super helpful, but very personable. Mike sets a great example for his crew and the selection and deals were Insane. I Highly recommend anyone that's never checked them out to give it a shot! You won't be disappointed!" ~Kyle G. 530 Causeway Dr.
Wrightsville Beach, NC 28480
(910) 256-2265

"I am honored and privileged to be part of the Sweetwater team/family. I say family as that's how I've been treated since moving here in 1998. These true locals have been serving the surf/skating community since 1976 and have grown to meet the needs of the SUP community as well.
We all surf, skate, and SUP because it's what we love to do. Everyone at Sweetwater shares the same love and are super stoked to help out everyone who walks in off the sidewalk. So stop by the next time you're in Wrightsville and you'll know what I mean!" ~Greg L. 10 N Lumina Ave,
Wrightsville Beach, NC 28480
(910) 256-3821
Where to go after one's Photo-session. Surf a Wave of Great Coastal Dining
Seafood


"I can never get enough of this place. The food is fresh, inventive, and delectable, and the service is really great, too. Not much of an atmosphere, but the food is well worth the visit. I've been here several times over the years and have never been disappointed." ~Justin G. 22 N Lumina Ave
Wrightsville Beach, NC 28480
(910) 509-0177
– Verandah Cafe –
"We found this resort level hotel to be fantastic. With plenty of convenient parking, 2 large pools, easy and close beach access, beach equipment rentals, and a great restaurant this place is just plain excellent. They have lots of conference rooms, even one dedicated to kids' fun programs, looks like a school classroom. You are close to many other restaurants, bars, and gift shops. Everything was clean and in near new condition!" ~James B. 1706 N Lumina Ave
Wrightsville Beach, NC 28480
(910) 256-2231
Seafood
"By FAR the best food we ate while on vacation! We were sat immediately, they served us lunch even though it was still breakfast hours, their drinks were absolutely amazing, and their staff was kind, considerate, and friendly. All of our food was incredible but the grouper fish tacos with green beans and rice is a MUST!" ~Dannielle F. 11 N Lumina Ave
Wrightsville Beach, NC 28480
(910) 333-6688
Seafood
"The food was awesome the service was excellent! We are local and have seen this restaurant go thru many changes! But! The new management is keeping everything snapping! The GM Sam came by several times and made sure we had everything! Our waitress Erin was on top of everything! My daughter birthday was today and they were very accommodating! We will be back and are very happy to see Oceanic back to it's amazing standards! It's the best view of the beach! The food was fresh and delicious! We will be back!!!!! I will recommend to all my out of town guest!" ~Lori Covington S. 703 S. Lumina Avenue
Wrightsville Beach, NC 28480
(910) 256.5551
Oceanfront Resort
"I have been in town for 13 years.. Hands down best brunch buffet
Tons of variety, heavy on seafood..and don't blame yourself for getting 3rds!!! Beautiful view w/ amazing chefs! Can't wait to try a plated dinner!" ~ClMatheson 275 Waynick Blvd
Wrightsville Beach, NC 28480
(910) 256-2251
Southern Inspired ~ Locally Sourced
"Without a doubt…THE best meal that we've had in a long time!! And, believe me…we eat good!! Fried Black Eyed Peas with Candied Bacon!! Just gimme a truckload of those! Maybe the best Fried Pickles I've had and absolutely the best Calamari in town!! A special thanks to the management and staff!! Impeccable food and service! See you again very soon!!" ~Teresa Garrell M. 100 S Lumina Ave
Wrightsville Beach, NC 28480
(910) 256-4646
Seafood & Oyster Bar
"We've been savoring the food and enjoying the professional, personable service at Boca Bay for years. Always extremely satisfied. This time it was to celebrate my husband's 50th! The seared Tuna was his choice and he loved every morsel. They were so accommodating and made a seared tuna for our teen son with just fries on the side! I enjoyed a perfected cooked Flounder Almandine. Boca Bay always has the freshest fish prepared divinely. To top it off, we had the unimaginably scrumptious key lime pie! Thank you, Boca Bay, for the all-round perfect evening." ~Deirdre Mauren Baker 2025 Eastwood Rd
Wilmington, NC 28403
(910) 256-1887
Seafood
"We sat at a table outside, facing the water. Our waiter, Tony, was awesome. We got there at around 7pm on a Saturday, but we didn't have to wait on the table (those outdoor tables are first come first serve). The view was beautiful, the building was blocking the sun from our eyes, and the breeze coming from the water kept the hot summer day extremely pleasant. The food was great! I had the lobster with scallops….yum!!! Our food took a little longer than expected, but we didn't mind because it was such a peaceful and relaxed setting. Tony apologized for the wait by bringing us a free dessert. We definitely plan to eat there the next time we're in Wilmington." ~Marsha Homer C. 1414 Airlie Rd
Wilmington, NC 28403
(910) 256-4519
"By the Sea Food"
"We stopped here on our way to the beach! Perfect place to kick off our vacation. We were seated for lunch with no wait. Our waitress was friendly and quickly brought us our drinks and fresh hushpuppies! We enjoyed the wonderful view while we waited for our lunch.
Several in our group stated they enjoyed the best burger ever here! I agree! They were cooked perfectly. My husband raved about his crab cake burger!
I also noticed they did away with plastic straws. Not a big deal by most, but didn't go unnoticed by me!
We look forward to our new tradition. This will always be our first stop on vacation! We can't wait to come back. Food and prices were great!" ~koluce 1308 Airlie Rd
Wilmington NC 28403
(910) 256-2752
On the Intracoastal
"It was awesome people there from workers wait staff and customer all super nice friendly also pet friendly on the outside which I love we were there on our Honeymoon had a wonderful time food was Amazing Excellent I would go there a lot if I lived there Drinks where very refreshing the whole meal was delicious loved the view everything was wonderful and then some highly recommend loved the fried oysters not want I order my husband order them and I feel in love I don't eat a lot of seafood but I love it can't wait to go back They even got our dog Elvis a bowel of water and treated him great love love." ~Rhonda J. 1410 Airlie Rd
Wilmington, NC 28403
(910) 256-3693
Hamburger Restaurant
"Excellent food excellent service. I got a Burger and coleslaw and fries. It was the bomb. Could not have asked for a nicer server very kind and courteous made shore we were satisfied with everything we ordered within 5 minutes after she brought it to the table. The ambience of the restaurant was comfortable and clean. Good time's great people had a lot of fun." ~Jason M. 212 Causeway Dr,
Wrightsville Beach, NC 28480
(910) 509-2739
Seafood & Steaks
"Been eating here for over 4 years now and finally getting around to writing a review! My wife and I love this place! The food is good and priced reasonable for getting some of the best water views on Wrightsville Beach, NC! Wait staff is usually very good, we have occasionally had some not so good waiters, but for the most part they are very good! Food is also really good for the price! If you are looking for a great place to eat directly on the water and have a great meal and not bankrupt you, this is a great place to eat. We go there almost every week! Thanks Bluewater for taking very good care of us when we visit! It was so good I got home and sang a song!" ~Don John M.
4 Marina St,
Wrightsville Beach, NC 28480
(910) 256-8500
Mexican Grill
"A funky Mexican food joint with a Baja claimed twist,
Named after a life guard stand in southern California, located in east North Carolina. Go figure. But the food is good. Sounds lame, but the hard shell tacos might be my favorite. The salsa was also good and fresh. But the best part was the cantina Rita. They're right on the main drag and within walking distance to the beach. And they stay open late. Check this place out." ~Dan W. 4 N Lumina Ave,
Wrightsville Beach, NC 28480
(910) 256-8585
Panamanian Cafe
"Amazing! Incredible! Love this place.
It was a recommendation by a local resident and the food was great! It looked small from the outside, but surprisingly roomy yet cozy. The staff is friendly and helpful, the food is amazing, and the drinks are good. We'll definitely be back next time we're in town." ~Tina Y. 7210 Wrightsville Ave,
Wilmington, NC 28403
(910) 256-3131
"A bit of a wait for a table for 3 but it was a Saturday night in the high season so it was understandable. Well worth the wait! Food was fantastic: our son had the shrimp tacos and loved them; my husband had the shrimp platter and thoroughly enjoyed every part of it – even the Cole slaw was unique and tasty; I had the Shark burger and it was delicious, as were the fries. The menu items have unique touches that make them very tasty and different from anywhere else. The interior is clean, modern, and welcoming. Our server Mandy was exceptional also. Definitely recommend!" ~Lisa F. 13 E Salisbury St,
Wrightsville Beach, NC 28480
(910) 239-9036
Sports Bar and Grille
"Jerry's is located on Wrightsville Beach and is a great place to sit down for the day to watch sports and have some drinks. This is because they carry sport packages and can usually air any game or event. They are also flexible with using volume if there isn't a high demand for music. The drinks are affordable, offering pitchers and a nice selection. Thu. nights are $1 domestics beer night and draws a big crowd. If you're into bar hopping it's also a great choice because it's within walking distance to other restaurants/bars on the beach." ~Adam J. 38 N Lumina Ave,
Wrightsville Beach, NC 28480
(910) 256-8286
Brunch Restaurant
"Quick Seating, Great Service, Delicious Food, and many many great things to say about this place. The atmosphere is serene and clean, the servers are respectful and kind. Servings are very large and plentiful, which are great for leftovers. Thus making splitting a dish with a buddy not such a bad idea after all. The orange juice was freshly squeezed, very refreshing could not resist but try some before photographing, and the French Toast was absorbed with great flavors from the Raspberries and Blackberries! Potato's also had a great breakfast vibe seasoning! Would suggest for any locals or tourists in the area as a great breakfast spot! " ~Christian H 6722 Wrightsville Ave,
Wilmington, NC 28403
(910) 256-7030
Hot Dogs. Burgers. Chili.
"A Wrightsville Beach institution! You haven't done the beach right without a dog from here. They have 5 meats to choose from – including a vegetarian dog (soy) and a gluten free beef dog, any of which can be had a bazillion ways. Bring cash! Outdoor seating." ~Susan D 94 S Lumina Ave,
Wrightsville Beach, NC 28480
(910) 256-3421


"When in Wilmington again, Cruz will be at the top of our "must eat" list. The environment is ultra-calm; our wait staff was outstanding in terms of service and recommendations; and everyone in our party was delighted with their food. I highly recommend the Enchilida del Mar as all flavors were distinct yet melded perfectly and the chilie relleno as it was spot on as well!" ~Linda K. R 7225 Wrightsville Ave,
Wilmington, NC 28403
(910) 415-2789
"Best place to eat pizza on the beach! Love me some Vito's!!" ~Mellissa W.

8 N Lumina Ave
Wrightsville Beach, NC 28480
(910) 256-5858